Leaders in our field, the Look-Predict-Prevent program is exclusive to AAPEX DRIVING ACADEMY. Since 1988 our emphasis has always been on collision prevention. We believe that there is no such thing as "accidents", the vast majority of so called "accidents" are predictable and preventable.
Our Full Program includes:
20 hours of in-class instruction
10 hours of private behind-the-wheel instruction
10 hours of homelinks
AAPEX – The Smart Consumers Choice – voted #1 since 2003
Yes, I'm a CAA Member
No, I'm not a CAA member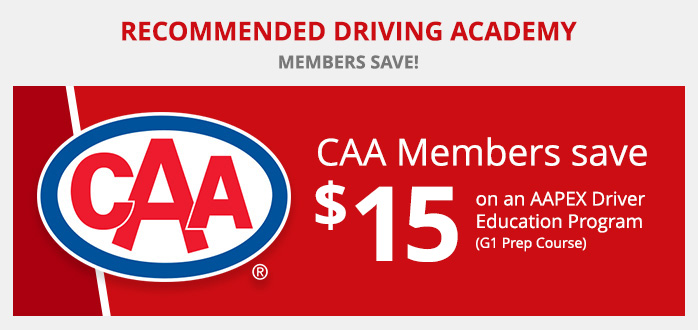 GRADUATES with a Drivers Licence History may be eligible for insurance discounts.
(Please contact your agent)
GRADUATES CAN BOOK YOUR TEST 4 MTHS EARLIER
AAPEX is the largest school in Niagara with 10 locations and over 30 instructors to facilitate completion of lessons.
PERSONALIZED PROGRAMS – Many choices of class times: day, evening and weekend classes available
PERSONALIZED SCHEDULES – Student lessons are booked to the student's convenience, not the schools availability. (students will not miss school or work for lessons)
AUTOMATIC ROAD TEST BOOKINGS: AAPEX staff will book lessons and road test to the student's preference and availability.
Convenience — customers are assured of a location near to them to attend class. Frequent classes also ensure that we're ready when you are.
Full time office staff. Instructors concentrate on offering quality instruction not answering phones.
BACK UP CARS AND INSTRUCTORS AVAILABLE: Students take their lessons in a fleet of up to date, well-maintained vehicles with a back-up car available for those last minute downtimes. Don't miss a lesson because the car needs repairs, AAPEX can have another car available right away.